It all started when one girl had asked another girl and myself if we had any plans. And when they add in 'bushwalking', 'royal nat' or 'blue mountains' into the question, I will no doubt put most of my priorities aside.
I'd like to think I'm an adventurer but I feel like I have yet to tackle on the many things I would like to in order to feel like I can appropriately associate myself as part of an adventurous group. Hence, I'm an explorer, one who is keen, curious, intrigued and is constantly learning and finding her way through. I'll keep it at that  🙂
This walk, was no doubt a great example.
The biggest takeout from this trip was definitely, to plan well or to stick to our research. Based on research, we were to direct ourselves to Garrawarra Farm, park our car there, take a walk east down Burgh Ridge track until it intersects with The Coast track where we will then follow the coast until we reach the Figure 8 Pools.
When we got to the Royal National Park, we soon lost sight of where we were meant to be parking and passed it without realising. As we drove passed a sign which said Garie Beach, we immediately thought- 'we need to park here'. There were people standing around as the entrance had been blocked off so we parked on the busy road and then waited. It turned out that they were waiting for the rangers to advise whether there was still enough parking spots. So that took about 30 minutes until they finally let us through. I did contemplate on walking from that open entrance to the actual beach but my friend did push for us to drive to the beach. That was one smart move we made that day thank goodness because it was at least 3kms… and that walk would not have been pleasant !
So we finally arrived at the beach, and then started our walk by following the sign posts with the arrows.
The one thing which I love about doing a walk at the RNP (royal national park) is the fact that there are always sign posts in place to allow you to follow without getting lost.
The start of the walk did make us realise that this was not going to be easy, and there's a reason why this walk would be rated hard. A lot of walking on rocks and sooo many steep hill walks! And by steep, I actually mean steep, elevated hills of about 50 metres + ! Was definitely very intense so it was important we stayed hydrated and well sourced with enough food and a bit of sugar to give us the energy.
This was the view after our walk up the first mountain from Garie Beach.
And I must say, this view makes it well worth the pain you endure walking up that first mountain! And need I say dexpire falling hard first thing while walking up the steps and scraping both knees, this kind of made me feel a bit better in a way.
We then reached Thelma Head and knew we weren't half way yet, and only had about 1.5 hrs before 4, which we were aiming to get to the pools by then to allow enough time to walk back before sunset.
This was whilst we were still walking through the mountain sections of North and South Era beaches.
We got close to the pools and saw that it was a few coastal beaches away, if not maybe 1 or 2 which shouldn't be too far. 'Almost there' we told ourselves each time.
We continued on the track until we realised we had passed the Figure 8 Pools and that there was no pathway leading down to sea level and we had already somehow commence the Otford Track. So we then asked a few other walkers who told us they couldn't find a way down to the pools either and that we weren't going to get to the next stop for another 30 minutes- which we clearly weren't going to do given the little time we had left. So we walked back, found a little unclear path down the mountains (unofficial path) and explored down but realised there was no way down as it was just a straight drop down to the bottom of the sea… so we went back and continued back to our starting point. As we were walking back, we noticed an open way for us to walk down to the coastal area, so we #yolo'd and did it. And hallelujah we finally made it to sea level ! So we had to ask the question of whether we were going to go back since it was already 4.30pm or just make our way to the pools since we were in a way really close.
Yep, we indeed went to the pools. It was a lot further than we thought but finally made it just before 5pm.
We took a few snaps then headed back as it was approaching sunset and we knew we had over 3kms (in the end we realised it was about 5 or 6kms).
The pool is interesting I have to say, in that it's in an 8 form but to be honest, it was way too fancy for me. Would I visit it again? Probably not, but I can understand why people do love it. It's such a unique way of capturing a photograph – a shot of you in a bikini with your back to the camera, sitting in the 8 shaped pool.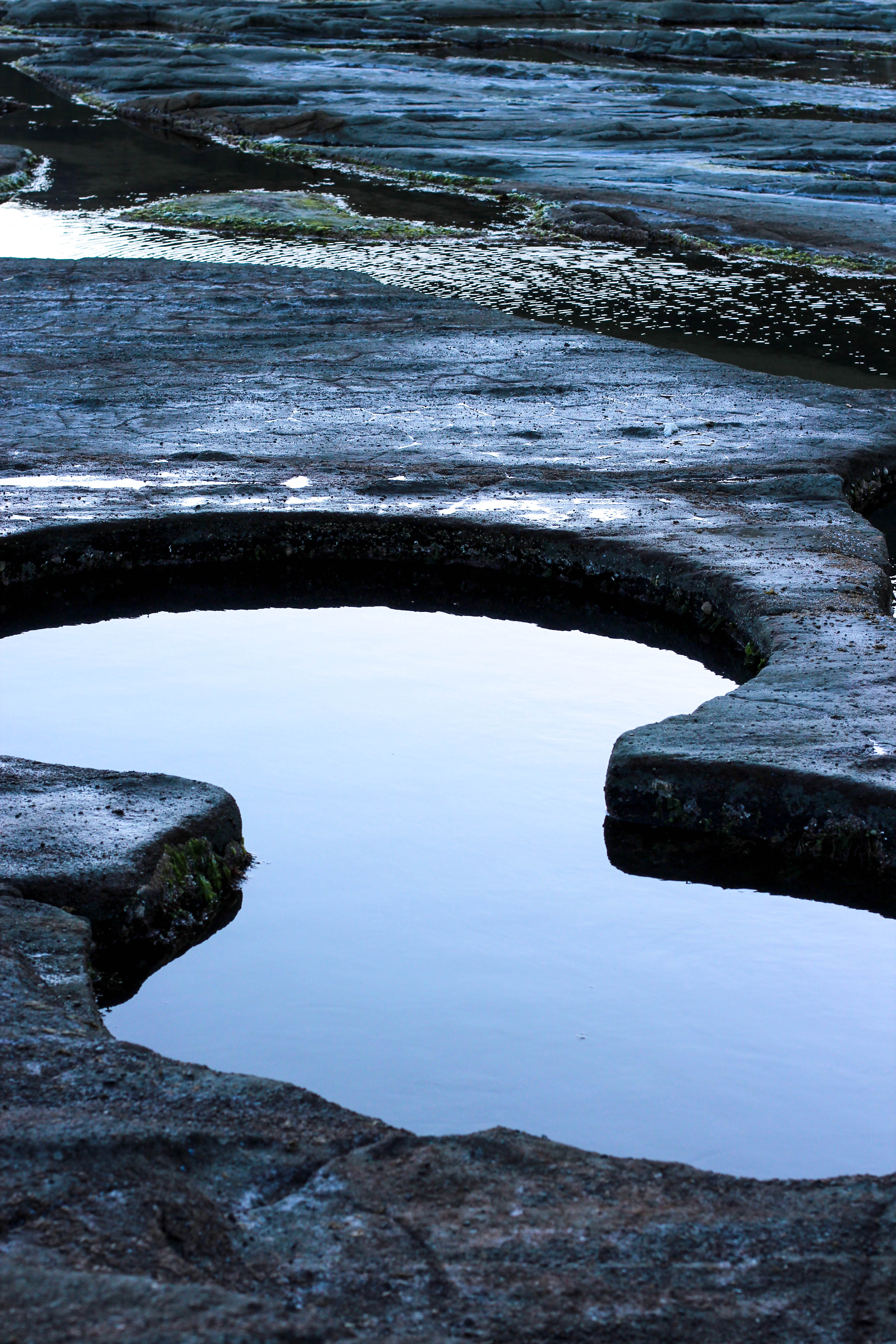 As we were making our way back, we noticed this sign along the way from the opposite direction. We also realised that if we had parked at Garrawarra Farm, our walk would've been a lot shorter! How did we know that? Well on our way back, we tried to keep up with the other groups thinking they were all heading to the same place as we did but after awhile, it seemed like they were all taking their time! So we asked if they had parked nearby or the one further. And from those conversations, we kind of realised we were going to be on our own.
So we only had two options:
1. To walk all the way back to Garie Beach by tackling another few kilometres up and down hill in the dark (dangerous) or
2. Hitchhike, which did carry with it some risks but would save us all that walk along an unsafe route at a really bad time of the night!
So what did we do? We decided to go with option 2, but if it didn't go our way, we would have to opt for option 1 instead.
Thankfully, it ended well with a couple agreeing to give us a lift to our parking. And I cannot stress how grateful we were that night. Getting to our car was a relief. I definitely can't imagine how horrible it would've been to have had to walk back! But good thing is, we got back safe and sound. And need I say, I think the biggest take out from this trip was to stay strong, positive and make sure you do heaps of research before! I know sometimes it feels right to just #yolo a trip, but when you're doing a bush walk, you definitely need to know the distance you're doing, cause it might not end so well if you go further than you originally planned and end up not having enough time to get back!
Regardless, it was probably one of the most eventful walks I've been on with a great bunch of girls 🙂 And need I say, the coastal views will always be the cherry on top !